Andersen Specialty Windows
If you are looking for a truly unique way to enhance your home, consider Renewal By Andersen specialty windows. These special products come in a large variety of different styles, sizes, grille options, and shapes. They are designed to be elegant, decorative pieces to give your home some extra flare. In addition, increase the value of your house with these beautiful fixtures. They are bound to catch the eye of prospective buyers- or even just family and friends!
Because they do not open or close, our specialty replacement windows may be conjoined with another traditional window. Choose surrounding windows that are able to be opened and shut. This will provide you with the functionality you desire, letting in breezes and taking in the fresh air.
Our specialty windows come in many different shapes. We offer round, circle, pentagon, triangle, springline, quarter circle, trapezoid, and more. Our associates are happy to assist you in picking a unique shape that will complement the architecture of your home.
After choosing a window shape, look into our 7 different color options. Choose a color that matches your current interiors and exteriors for a window that will blend with and enhance your house's existing style.
Choose whether or not you would like a grille on your window. Grilles can change the whole look by framing the glass in different styles. For example, a farmhouse grille provides a more traditional look.
If you are looking to invest in a state of the arc replacement specialty window, call Renewal by Andersen today to schedule a free consultation.
Colors, Hardware, and Grilles
Renewal by Andersen specialty windows come in a variety of colors, hardware, and styles.
First, choose colors:
Interior Color Finishes:







Exterior Color Finishes:









Then, look into our different types of hardware: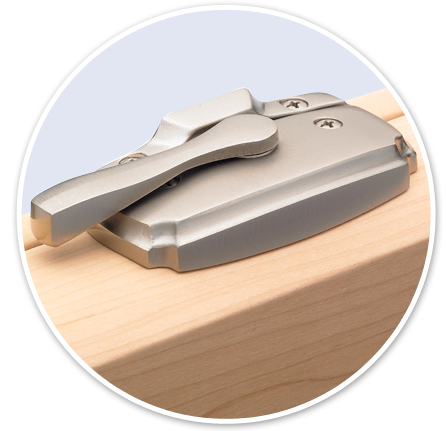 Hardware Finishes:











Finally, choose a unique grille:
Grille Designs:

None

Prairie

Farmhouse

Modified Prairie

Colonial