Andersen Bay & Bow Windows
Not sure what Bay or Bow windows are? Bay and Bow windows are an unusual design. They buckle outwards providing some extra space and a unique architectural touch. Like all Andersen Windows, they let in plenty of light and give a great view of the outdoors.
These windows can make rooms look bigger and even provide some additional places to relax. Choose to install a window seat for a cozy nook in any room – a perfect spot for reading or napping.
Renewal by Andersen provides a simple solution to replacement windows. Call us today for a free consultation in the convenience of your home. We will come to your house to measure each window's opening to design a custom frame. Windows change and stretch over time, so measuring for a custom fit is preferable to using a standard structure.
We will also ask you some questions to get a better understanding of what you are looking for. Renewal by Andersen associates are there to meet your needs. We will help you pick a style of window that will go best in your home and be functional to you and your family.
Our trained professionals will install this window hassle-free. We respect your home and will leave it looking neat and tidy, just as before we entered!
Colors, Hardware, and Grilles
Our Bay and Bow windows come in 7 different interior colors and 8 different exterior colors and 11 hardware finishes to match your style. You can also choose a style of grille. We offer 5 different grille designs which can accent each window and ultimately your home.
First, choose colors:
Interior Color Finishes:







Exterior Color Finishes:









Then, look into our different types of hardware: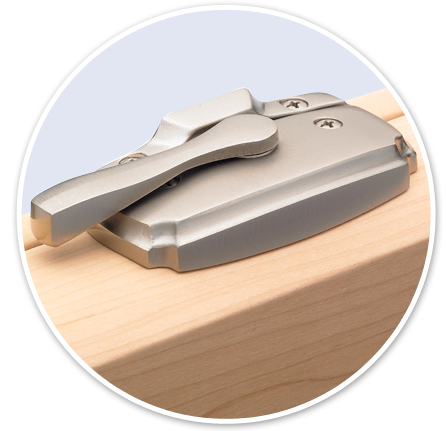 Hardware Finishes:











Finally, choose a unique grille:
Grille Designs:

None

Prairie

Farmhouse

Modified Prairie

Colonial