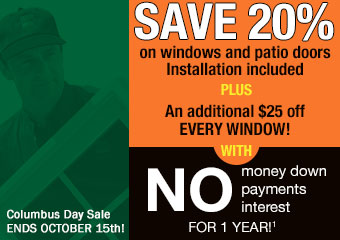 Renewal by Andersen® – Flagstaff's Source for the Best Window Replacement Services
When it comes to energy efficient, long-lasting and durable replacement windows, homeowners in the Flagstaff area can rely on Renewal By Andersen. No one else can offer our large selection of beautiful windows and patio doors that will not only save you money on your energy bills, but will look great inside and out.
With over 100 years in business, our parent company Andersen Windows has developed innovative technology that has revolutionized the replacement window industry. By offering a variety of energy efficient glass options, along with our patented Fibrex® material, we are able to provide customers with energy savings that can't be matched by any of our competitors.
With everything that our replacement windows have to offer, why would you not want the best in your home? You'll find it at Renewal By Andersen – Flagstaff, Sedona and Cottonwood's only source for quality Andersen replacement windows. We are so confident in our windows, that we provide a generous warranty that you won't find anywhere else in Flagstaff, Arizona and the surrounding areas.
Because we know that no two replacement windows in Flagstaff and Sedona are the same, we begin our replacement process by precisely measuring your windows that need to be replaced. We then custom build each window, ensuring that everything will fit perfectly. Our expertly trained installers will then arrive and install your new windows, then leave with the construction area cleaner than when they arrived. As you can see, we strive to make the process as hassle-free as we can for our customers in Flagstaff.
So call today at 928-466-4210 to get a free estimate or set up an appointment. We promise you will not be disappointed in your decision!
What Makes Renewal by Andersen Windows & Patio Doors Unique?
Over it's long existence, Renewal by Andersen has developed a truly unique product that has revolutionized the replacement window industry. Our windows and patio doors are not only beautiful, but are among the most energy efficient on the market. Here's what separates our windows from the competition:
Replacement Window Innovation
Our patented Fibrex® technology combines the strength and insulation of wood with the low maintenance features of vinyl, creating a truly unique product you can't find anywhere else. This means that your new windows will not have to be repainted, and will not crack or rot.

Fibrex® is capable of maintaining it's beautiful appearance for decades, while never requiring maintenance. It's durable nature allows our windows to use the most energy-efficient combination of glass and frame. And because Fibrex® contains 40% recycle wood fiber, our products are even more environmentally friendly.
Custom Window Design
At Renewal By Andersen, you have the ability to create your own custom windows from hundreds of different combinations of exterior sash, frame, trim colors and interior wood colors. We carry many types of replacement windows, including: awning, bay, double hung and even historic windows. With such a large variety, we are confident you will be able to find the perfect fit for your Flagstaff home.
Window Replacement Experts
At Renewal By Andersen, we know that no two houses are the same. That's why, before we build a window or patio door, we send an expertly trained professional to take exact measurements of the opening. This ensures that the installation process will be as smooth as possible, with minimal on-site adjustments and alterations needed. This is also an essential step in achieving the energy efficiency that our company is founded upon.
Flagstaff service areas include the following: